Winter isn't letting go of us this St. Patrick's Day. We've had rain, sleet and snow here in Mathews, and it's down to 27, but the sky is quiet for now. Our writing critique group meets in Williamsburg, and so the question is: how are the roads?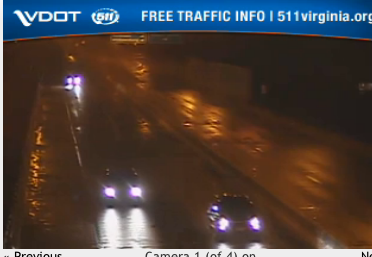 I dialed 511 for road information. It used to be a pretty straightforward call, if you were in a quiet enough place for the voice-activated computer to understand you. If not, you could pull over and use the keypad. Well, the 511 system has been improved, effective November 20th, some menu options have changed, please listen carefully, as the recording tells us. I asked for 17, and it gave me the Hampton Roads Bridge Tunnel.
Second try: "Say the name of an interstate, bridge or tunnel."
U.S. 17  This time I opted for the keypad, and 17# got me a series of options, but nothing familiar. Hampton Roads seemed the most reasonable of the choices. (I used to be good at multiple choice answers, but guess not any more.) I apologized to the human who answered because she couldn't help me with US Route 17.
Third try: Before I spoke, the system interpreted some sound as a request for tourism information, and I couldn't get it to start over, go back, (go to) menu, and I ran out of ideas to try while it wanted me to pick a tourism location.
Fourth try: Not sure how it happened, but I got I-81.
Fifth try: It gave me US Route 7.
Sixth try: I got ride share information. (Usually done by hitting 4 on the keypad twice, which I hadn't pressed.)
Seventh try: I got  U.S. Route 7 again, and tried to use the keypad to go back. No luck. "After many tries, the system has not received a valid response."  Neither have I.
Just because I've invested this much energy already, I want my road information, and I want to know how to get an answer out of this system. Now this isn't a case of road noise. I'm in the house. I used to be able to get an answer, so what am I doing wrong on this new, improved system? I need to know whether to stay or go.
Eighth try: Got it! It told me, "Select your direction of travel." Progress! Then a selection from Winchester to Route 66; 66 to Fredericksburg, Fredericksburg to Yorktown… And we get off at my stop!
I hear about tomorrow's bridge opening. Good to know. Then a report of icy conditions between the Junction of US 1 and US 2.
Huh? I don't even know where they are, but they're not in Gloucester. I go online and find 511Virginia.org.
I check the traffic cameras on the Coleman Bridge. Nobody's skidding, but they seem to be going way too fast for the weather. I click on the scrolling banner, "Get the Latest Road Conditions." Mathews is clear; Gloucester is clear; York County and the Coleman Bridge have minor icy patches. Don't know where to look for Williamsburg, but it's decision time. Leave now or call and cancel. One more look at the bridge cams, and I leave.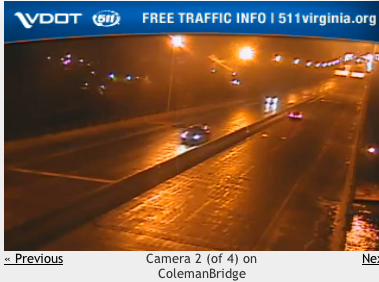 Takes a few minutes to get the icy snow off the windshield, but I'm just about to pull out when my phone rings. The group's off for tonight because others have cancelled, and I can't be sure I'll be able to make it either.   (Bless you all!)
Celebrating my relief, I get a rotisserie chicken from the market and settle in front of the computer. The 511virginia.org page is still up on the monitor where conditions on the bridge have gone from minor patches to Icy Conditions with an advisory.  Since I first walked out the door, the Doppler radar weather map has colored the whole area from here to Williamsburg and further in shades of frozen pink.
I don't know if my guardian angel stepped in to rescue my foolish self, or if I'd have had the sense to know things were bad and cancel out half-way, but I'm home safe. Just have to remind myself next wintry mix time of the Mathews weather slogan: Don't like the weather? Wait 15 minutes and it'll change. I forgot that doesn't always mean for the better.
But spring will be here in a couple of days. I saw fat daffodil buds ready to prove it when I drove in tonight, and that's one change I'll be happy to wait for.