By  Carol J Bova
In 2001, the National Watershed Boundary Dataset (NWBD) became the official hydrologic unit system of the United States. Virginia made some adjustments to simplify identifying smaller watershed units. You might never need the details here, but if you do, this should help because an accurate list is not always easy to locate. A special thank you to Sam Austin and Randy McFarland of the USGS for their help.
Watershed Hydrologic Unit Code (HUC) Level, Name and Unit Size
1st Order = Region            HUC = 2 digits         Avg. 177,560 sq. miles
2nd Order = Subregion      HUC = 4 digits         Avg. 16,800 sq. miles
3rd Order = Basin              HUC = 6 digits         Avg. 10,596 sq. miles
4th Order = Subbasin         HUC = 8 digits         Avg. 703 sq. miles
5th Order = Watershed       HUC = 10 digits       40,000 – 250,000 acres
6th Order = Subwatershed   HUC = 12 digits     10,000 – 40,000 acres
The Virginia Department of Conservation and Recreation (DCR) describes River Basins as follows:  Although 3rd level units of the WBD are called "Basins," these units are not necessarily the equivalent of river basins as described in many state programs. For instance, DCR frequently divides the commonwealth into 14 River Basins for program usage as follows: Potomac River, Rappahannock River, York River, James River, Atlantic Ocean Coastal, Chesapeake Bay Coastal, Chowan River, Albemarle Sound Coastal, Roanoke River, Yadkin River, New River, Clinch-Powell Rivers, Holston River and Big Sandy River. Except for offshore ocean claims, all of Virginia is accounted for in these basins.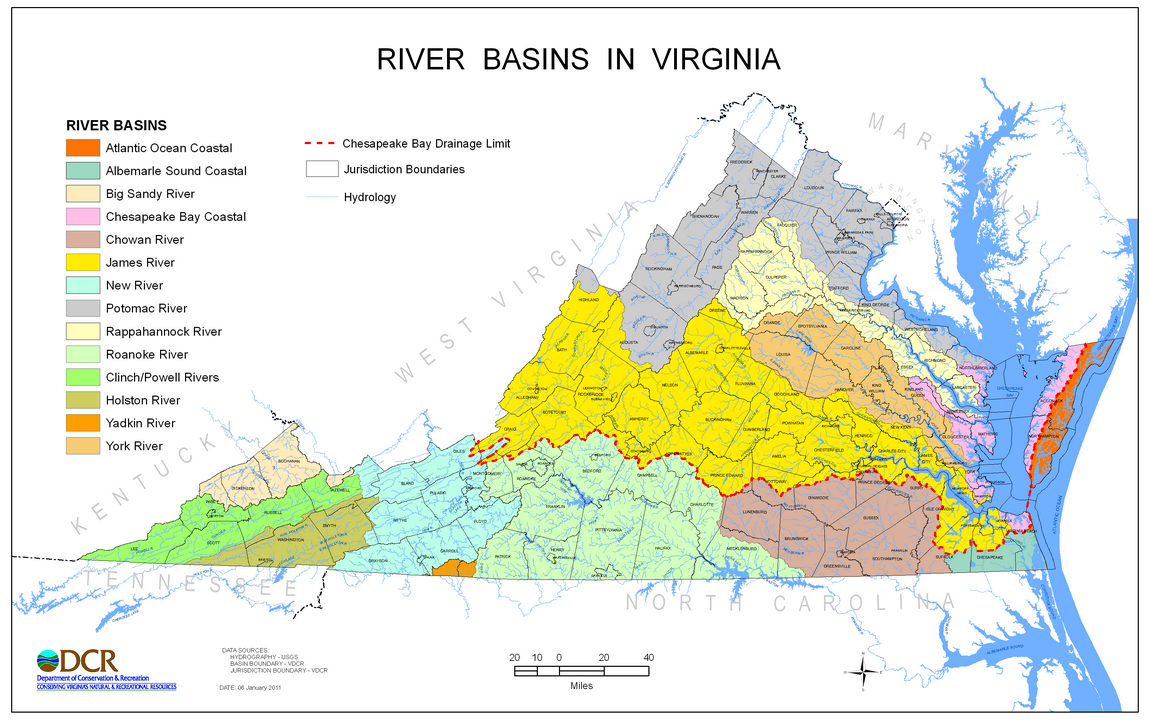 Virginia developed a new four-character code for its 5th and 6th level units. The first two characters are based on the major stream name in the basin, or portion of the basin, where the unit is located. The two digits that follow are numbered in sequence by drainage flow from headwaters to mouth.
These four-character identifiers are not part of the national WBD standard. The Virginia system is called the Virginia National Watershed Boundary Dataset (VaNWBD). Originally released in 2006, the VaNWBD has been updated a number of times, and currently is referred to as version 5 (VaNWBDv5).
The Department of Conservation and Recreation (DCR) website lists the internal coding for all 5th and 6th level units of the VaNWBDv5 at http://www.dcr.virginia.gov/soil-and-water/hu. The Virginia coding for 5th and 6th level units for the Chesapeake Bay watersheds and sub-watersheds of the VaNWBDv5 from Table 4 shown below.
CHESAPEAKE BAY VIRGINIA WATERSHEDS AND SUB-WATERSHEDS
5th LEVEL UNITS (VAHU5)
6th LEVEL UNITS (VAHU6)
DRAINAGE
PL-A – PL-U
PL01-PL74
Potomac River, Lower
PU-A – PU-F
PU01-PU22
Potomac River, Upper
PS-A – PS-T
PS01-PS87
Potomac River-Shenandoah River
CB-A – CB-O
CB01-CB47
Chesapeake Bay/Chesapeake Bay Coastal
AO-A – AO-H
AO01-AO26
Atlantic Ocean Coastal
RA-A – RA-R
RA01-RA74
Rappahannock River
YO-A – YO-S
YO01-YO69
York River
JL-A – JL-L
JL01-JL59
James River, Lower (Tidal)
JM-A – JM-U
JM01-JM86
James River, Middle (Piedmont)
JR-A – JR-E
JR01-JR22
James River- Rivanna River
JU-A – JU-T
JU01-JU86
James River, Upper (Mountain)
JA-A – JA-J
JA01-JA45
James River- Appomattox River
CM-A – CM-H
CM01-CM32
Chowan River-Meherrin River
CU-A – CU-R
CU01-CU70
Chowan River, Upper
CL-A – CL-C
CL01-CL05
Chowan River, Lower
AS-A – AS-D
AS01-AS20
Albemarle Sound
RU-A – RU-V
RU01-RU94
Roanoke River, Upper
RD-A – RD-S
RD01-RD77
Roanoke River- Dan River
RL-A – RL-G
RL01-RL24
Roanoke River, Lower
YA-A – YA-B
YA01-YA07
Yadkin River-Ararat River
NE-A – NE-Z
NE01-NE90
New River
TH-A – TH-L
TH01-TH46
Tennessee-Holston River
TC-A – TC-H
TC01-TC35
Tennessee-Clinch River
TP-A – TP-D
TP01-TP19
Tennessee-Powell River
BS-A – BS-H
BS01-BS35
Big Sandy River